My husband and I recently had some vacation time without kids, so we decided to head over to The Big Apple! We had been there once before but only briefly, so we wanted to really get to know the city this time (without spending a ton of money, hopefully). The first thing we did was ask friends on Facebook for some recommendations. We got all kinds of great advice and ideas – I love crowd-sourcing like that! What to do, and what not to do!! We had a spectacular time, and I thought I'd share with you my 5 favourite things that we did over the time, without spending much money.
1. A Hop-on-Hop-Off Tour
You can either pre-purchase these tickets online, or you can go to your hotel lobby. They also sell their tickets on practically ever street corner. We had our pass from 8 am until 6 pm. I would definitely recommend doing this near the beginning of the trip. It's a great way to get to know the city, the major landmarks, and a lot of history. It will also help you decide later what things you'd like to explore in more depth.
Also, because you can get on and off throughout the city, it almost acts like a taxi, getting you to some great attractions to explore. One that you really need to do is walk the Brooklyn Bridge. Such an iconic landmark, and a fascinating feat of architecture of its time! The view coming back into Manhattan is incredible as well.
A second stop you should make is at the World Trade Centre Memorial. There are two beautiful neverending fountains with the names of each victim inscribed. On their birthday, a white rose is placed on their name. You can also pay to see the museum, but we thought it was enough just to walk the fountains and beautiful gardens.
2. The Staten Island Ferry
New York is such a full and bustling city, but it is wonderful to see it from the water. The Staten Island Ferry is a great way to do that for free. It's about a 30 minute ride to Staten Island, with lot of great lookout options. When you get there, there is nothing much else to do, so most people just get right off and back on again. You get a really great view of the Statue of Liberty, and an incredible view of Manhattan on your return. And did I mention that it is FREE?!!!
3. The High Line Trail
There was a raised train track through part of the city which was used for manufacturing until about 1980. From then until the 90s, it sat unused, overgrown and empty. Most people said it was an eyesore and should be torn down, but a small group of people had another idea. They eventually raised money and created this 1.45 mile long raised walking trail along it, complete with similar plants and vegetation that used to grow over the old train tracks. It has become a very trendy spot, with art, music and culture. It's a great way to see a different part of the city, and to escape the concrete jungle.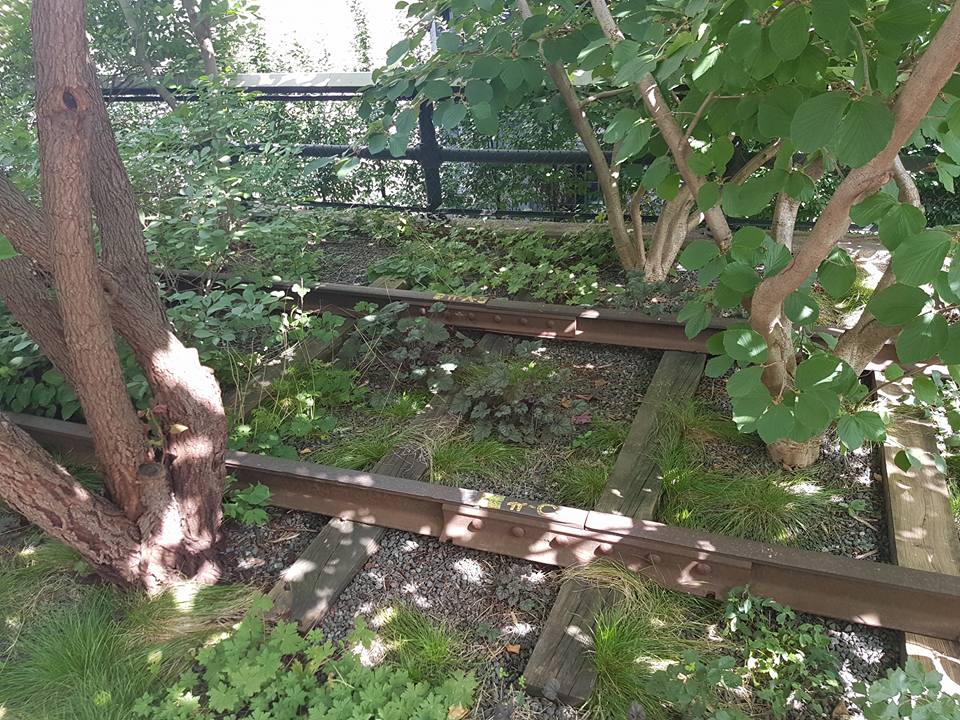 4. Rent Bikes in Central Park
Central Park is much more than a little park. It's 846 acres of trees, grass, rocks and gardens right in the middle of the city. There is so much to see and do there, and bikes are readily available everywhere for rental. You can bike around the entire thing, and then walk some of the paths in the middle. There are so many movies and shows that have taken place here, and it's like a little piece of paradise in the middle of the city.
5. Top of the Empire State Building
Yes, it is very touristy. But it is so iconic. It's been the stage for many movies as well (King Kong, Sleepless in Seattle). It's fascinating to learn about the building process, and once you get up, you get an amazing open-air view of the city. My husband and I couldn't agree on whether to go up during the day or at night, so we compromised, and went up before sunset. It was pretty incredible to watch the sun set from there, and the watch the city lights come on, as it slowly transformed.
One option that helps with a few of these is to purchase a City Pass. You can get some online, or through Costco, or even in the city itself. You can get options for one day, for several days, or (what we did) – four attractions. We payed just over $100 and definitely got our money's worth!
Have you been? What else would you add to our must-see list?
The following two tabs change content below.
Marya R
I live in Bowmanville, and am a mom to four young boys - it can get a little loud in my house. I am a Christian, a part-time French teacher, a piano teacher and former homeschooler. I love finding the best deals, which will come in handy when our boys become hungry teenagers! We just moved to a house with more outdoor space, and I'm still getting used to life in the country (a walk around the block is a lot longer here!).