So last year I came across a post on Pinterest where a woman made a "Temperature Blanket." She crocheted one row a day for a year, choosing the yarn according to the weather. It turned out really neat, but I didn't think much of it. I came across it again on Facebook right around New Years, and thought it would be a fun project. I haven't actually crocheted anything in a long time, so it was a nice way to ease into it.
I did a bit of research, and realized that 365 rows (or 366 this leap year) is a LOT of rows for a typical blanket, so any double crochet pattern won't work – it would be 15 feet long! I checked a few single crochet patterns, and settled on this really neat pattern called Groovy-Ghan (or Apache Tears). I thought it would look neat with the temperature changes.
I chose Red Heart Super Saver yarn from Walmart, because there is no dye lot, and it is relatively cheap. I made up a scale, chose some colours, and here it is! I started with a white edge, and I think it will become a white border when I'm done.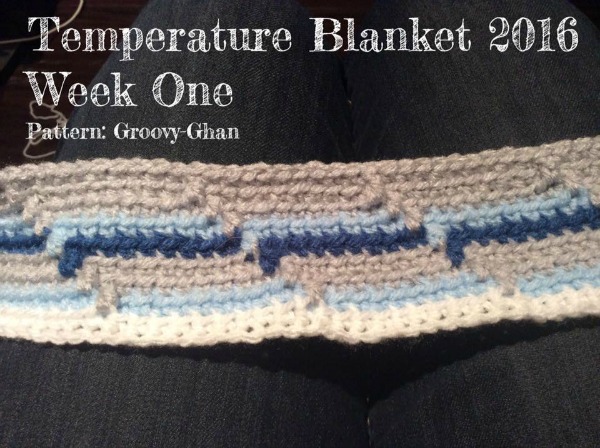 I was surprised to have this much grey (+1 to +6 celsius) in winter.
I'm pretty happy with the way it looks. I really like the idea of having art inspired by nature, and it almost feels pioneer-like to incorporate weather and events into crafting. My kids are also excited to watch it change every day! I'll try to post updates from time to time!
The following two tabs change content below.
Marya R
I live in Bowmanville, and am a mom to four young boys - it can get a little loud in my house. I am a Christian, a part-time French teacher, a piano teacher and former homeschooler. I love finding the best deals, which will come in handy when our boys become hungry teenagers! We just moved to a house with more outdoor space, and I'm still getting used to life in the country (a walk around the block is a lot longer here!).