We sold our house this spring for a surprisingly tidy profit, but there was a fair amount of work involved before the house went up on the market.
One of the most important lessons that my husband and I have learned in the last 9 years of our married life is that it's not only a waste of time but also a waste of money to go into a DIY project under-prepared. Having 200 hours of HGTV under your belt does not qualify as a home contractor or interior designer just as visiting 56 Open Houses does not a Realtor make. Never underestimate the importance of consulting with the experts before you begin your project.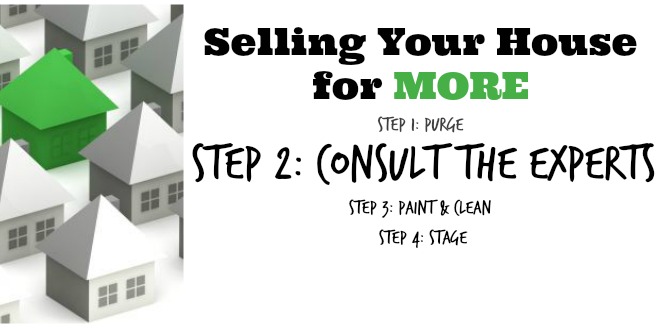 Even in an active real estate market, if you want to sell your house for more, you need to put a little time and money into your house before it gets listed. If you're going to invest the time and money into this project, do it wisely and make use of the experts in your community! Having just gone through this process (and having done quite well for ourselves at it), these are the top three experts that we'd recommend you seek out:
1) Realtor
Who: A realtor is a trained agent who will guide you through the process of listing and selling your house. They give counsel on things like the best time to sell and appropriate price ranges for listing, and liaise with other brokerages to show your house. They're a fountain of knowledge when it comes to reliable & trustworthy mortgage brokers, lawyers, home staging consultants, and cleaning services.
Why: You aren't require to obtain the services of a realtor when selling or buying a house. Unlike lawyers, realtors don't fulfill any legal role in this process. However, unless you're intimately familiar with the inner workings of real estate deals, it's a very good idea to have one. My husband used to be a realtor, so originally thought to list with ComFree because they would get our house listed on MLS and provide some paperwork support while saving us a fair bit of money. However, when our timeline got tight, we decided to bring Gloria Payton on board, the realtor (and dear friend) who helped us buy this house 7 years ago. Realtors come to the table with a huge database of information at their fingertips. A good realtor will help you find the perfect listing price by creating a list of 'comperable' sales and listings from your neighbourhood.
A good realtor will also be active in the market and can give you an idea of how many offers the average house is receiving.
It is your realtor's duty to guide you through the listing so that you're not unwittingly promising the buyer something that you don't realize, leaving you on the hook for potentially thousands of dollars that you hadn't planned on.
Finally, your house just won't see as much action if you decide to list it privately instead of with a realtor. For better or for worse, realtors have a bit of a monopoly on the housing market. If you don't have your home in their system, most of your potential buyers won't see it, and you're less likely to get multiple offers (and therefore a lower overall selling price).
Buying or selling in the Hamilton area? Here are three absolutely fantastic & trustworthy realtors in Hamilton that I recommend to anyone!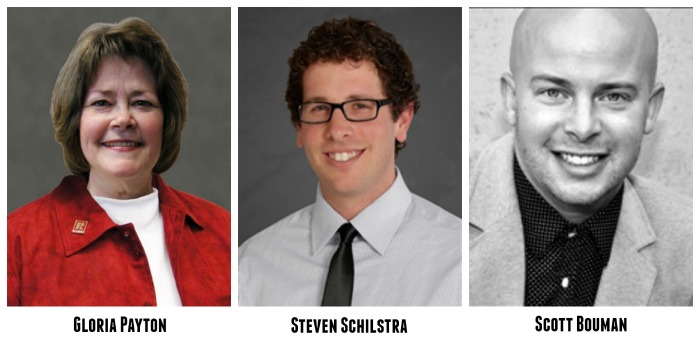 Gloria Payton (L. Piriano Real Estate), Steve Schilstra (Wayne Schilstra Team, RE/MAX Escarpment), Scott Bouman (Ambitious Realty
2) Home Staging Consultant
Who: An Interior Designer with an eye to appealing to the masses. As opposed to helping your home reflect who you are, a home staging consultant helps your home reflect what it can be to a potential buyer.
Why: A house, once you move into it, is a very personal thing. Everything about it is intimate, from the colour of the walls to the way that you've arranged your furniture. Every decision that you've made about your house is about how to make this space work best for you – not to showcase how this space works best for the house. It's hard to separate yourself from the house. If you don't believe me, hire a staging consultant and see if you don't just feel the tiniest bit insulted at some point.
When we needed to get our house ready to sell in short order, and had a fairly high listing price in mind, I knew that I needed someone to come into our house and help us de-personalize. I was fairly certain that most home staging is common sense and that I could already guess what she was going to tell us, but I missed almost 50% of the items on her 'To-Do' list.
We had, so I thought, a gorgeous kitchen. VERY red walls, but they worked so well with the white country cupboards and butcher block countertop! "No red!" she said. "It's far too loud, especially since it's the first thing that people see when they walk into your house." We painted them. She was right.
Down with the drapes. Away with the main floor washer & dryer. Rearrange the Master Bedroom! Paint ALL THE WALLS Muslin. Take off all hooks from the walls! Pack away all magazines. Remove all evidence of the dog who lives in the house. Get a new mailbox. Clear all children's toys out of the yard.
It was so helpful for us to have an outside opinion on what our house needed to appeal to the masses and while it kind of hurt me to do some things, like painting over the red bricks in the kitchen, it was all for the good of selling the house. Our place looked absolutely incredible when we listed it, and we wouldn't have been able to make that happen without a home staging consultant. If you're in Hamilton or the GTA, give Kristen Miedema a shout. This girl knows her stuff. More about her to come in the 4th installment of this series!
3) A Paint Expert
Who: Someone with an intimate knowledge of paints, colour-matching, and painting techniques.
Why: It is unlikely that your home staging consultant is going to ask you to do major renovations – after all, a 'stage' is a temporary setting meant for a particular performance. The home improvement that gets the most bang-for-your-buck is painting. Changing the colour of a room changes the whole feel of the room, and using the wrong paint finish can make a whole room feel 'off'. What type of paint is best for which rooms? When do you use a low-pile roller and when should you bring out the high-pile roller? Are there tips or hacks for painting a long flat wall? Can you match the trim paint that we use in the rest of the house so that we can do touch-ups without repainting every inch of trim?
The paint experts at Aftica Decor – Benjamin Moore in Hamilton helped me pick the right quality of paint for our different home staging projects and counseled me on the different finishes for different rooms. For example, did you know that bathrooms are best painted semi-gloss or gloss? It's more durable and easy to clean, which you definitely want in a bathroom.
My first thought, when procuring paint, was to go for the good-quality stuff. I wanted the finish to look nice – since I'm investing the time, shouldn't I invest the money? The paint expert at Benjamin Moore told me that they have a paint specifically made for home staging / house flipping, called "ben." It's cheaper, has excellent coverage and a nice finish, but it doesn't have the special features of their more premium lines. "And," she said, "most home owners will buy the house because it looks like it doesn't need anything done to it, but once they move in they'll want to paint it to match their decor, anyways."
Can you guess how many coats of paint we had to put on to cover this red wall?
Two. Yup, that's right. The first coat covered it almost entirely and by the time the second coat was on the wall you'd never have been able to tell that the red had ever been there.
You can purchase paint almost anywhere these days – but it's important to note that not all stores that sell paint have paint experts on staff who will take the time to talk through your project room by room and give you individualized, unrushed service. You can find paint experts at Benjamin Moore stores all across Canada who will help you get your house looking its best so that you can sell – for MORE!
Disclaimer: I was provided with Benjamin Moore product in exchange for sharing my experience with their service and product. I was not told what to say and, as always, I'm sharing my own honest opinion!
The following two tabs change content below.
Jenn vanOosten
I live in Hamilton, Ontario, and love my city. I'm a Netflixer, choral music geek, bookworm, inventor of recipes (I take Artistic Licence on EVERYTHING that I make), wife of one, mother of two, and owner of a neurotic Schnauzer. I respect people who respect others. I love good food that's well done, but my favourite lunch is KD & hotdogs. With ketchup. I'm addicted to Clearance Shopping. I will ALWAYS get the product that I want at the price that I want, eventually.
Latest posts by Jenn vanOosten (see all)