I picked up this kid's Ikea POANG chair on the side of the road on the way home from school the other day – normally, I wouldn't pay attention to upholstered furniture up for grabs outside, but I love the Ikea stuff because you can take it apart completely and wash or buy/make new covers.
Once I removed all of the screws, I realized that they had been rusted pretty badly. My first thought was, "I really don't want to spend an hour scrubbing them with a metal brush – I'll just keep them aside so I can buy replacement pieces at Ikea." And then I thought, "Wait. I need to Google this: 'how to remove rust'."
Turns out it was a good thought.
With no effort whatsoever, you can remove rust by soaking them in this magical solution for 24 hours. Seriously. You can sit and watch the rust flaking off the metal.
What is this magical solution, you ask?
Vinegar.
Boom.
Submerge the rusty metal in vinegar for 24 hours; rinse thoroughly with water.
That's it. That's how to remove rust the lazy way.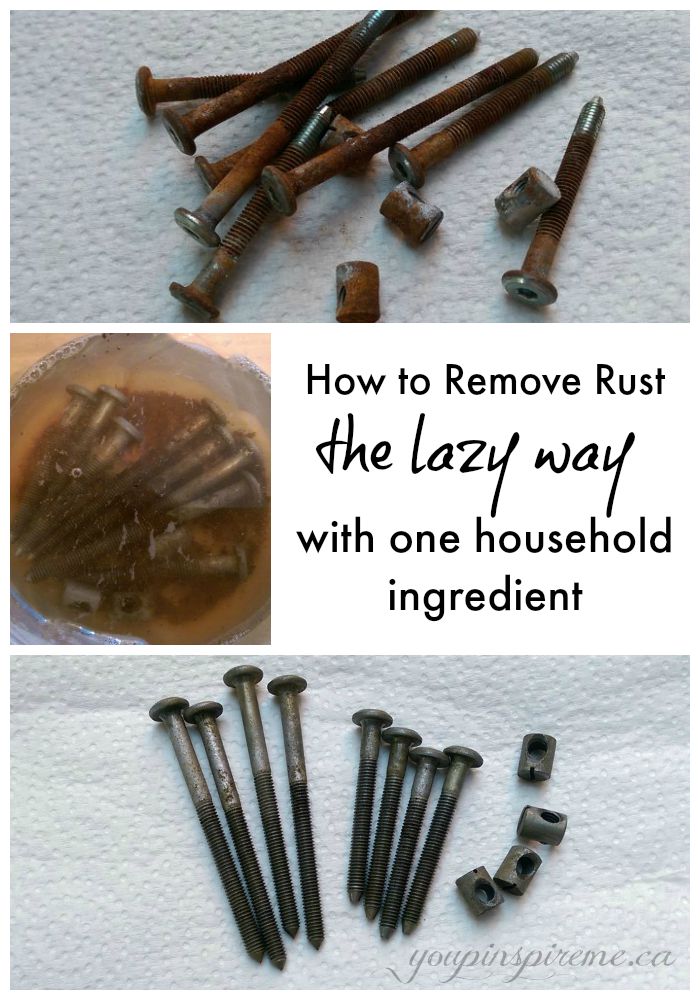 The following two tabs change content below.
Jenn vanOosten
I live in Hamilton, Ontario, and love my city. I'm a Netflixer, choral music geek, bookworm, inventor of recipes (I take Artistic Licence on EVERYTHING that I make), wife of one, mother of two, and owner of a neurotic Schnauzer. I respect people who respect others. I love good food that's well done, but my favourite lunch is KD & hotdogs. With ketchup. I'm addicted to Clearance Shopping. I will ALWAYS get the product that I want at the price that I want, eventually.
Latest posts by Jenn vanOosten (see all)