Have you ever wanted to get a pie in the face? Maybe throw one at someone else? Or just watch it happen? Well, Hasbro has a FUN new game called Pie Face, and it's a great way to participate in that slapstick humour with your family (without making TOO much of a mess…)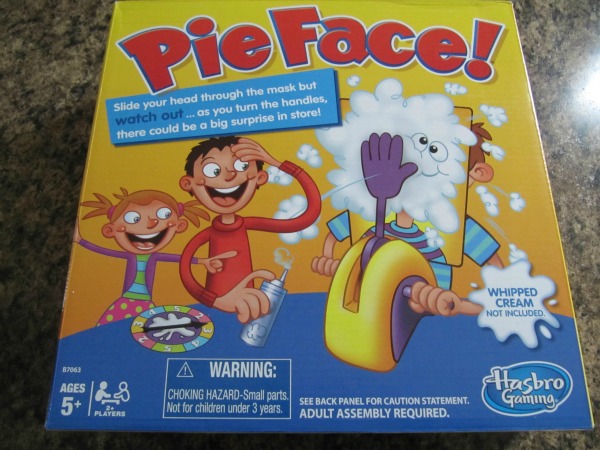 The game has everything you need, all you have to do is add the whipped cream. Gay Lea Regular Real Whipped Cream is made with real cream, nut-free and certified Kosher, and is perfect for licking off your face…
Just load up the whipped cream and spin a number. Turn the handles and see what happens…
Sometimes you get nothing…
And sometimes you get a face full of whipped cream!
…and sometimes you look like Rudolph and your kids take a picture of you!!
Such a fun game – we laughed the entire time! It would be perfect for a birthday party – just imagine!!
If you'd like to try it out, you're in luck!
One You Pinspire Me reader will win a Hasbro Family Game Night Prize Pack valued at $80!!! Prize Pack includes:
Pie Face
Monopoly Core Game
Game of Life Jr.
Scrabble Jr.!
Giveaway closes by October 30th, 2015 at 11:59 pm EST. You may enter across multiple blogs, but may only win from one participating blog. Entrants must be a resident of Canada, excluding Quebec. The winner can expect their prize in approximately 4-6 weeks.
For more great Gay Lea products, head to www.gaylea.com - they also have product information and great recipes!!
Disclosure: I am part of the Gay Lea Ambassador Campaign with Mom Central Canada and I receive special perks as part of my affiliation with this group. The opinions on this blog are always my own.
The following two tabs change content below.
Marya R
I live in Bowmanville, and am a mom to four young boys - it can get a little loud in my house. I am a Christian, a part-time French teacher, a piano teacher and former homeschooler. I love finding the best deals, which will come in handy when our boys become hungry teenagers! We just moved to a house with more outdoor space, and I'm still getting used to life in the country (a walk around the block is a lot longer here!).