Hello all!! Just thought I'd share once again what shows we've been enjoying lately on Netflix!! We are once again amazed at the selection of titles, and the quality of the Netflix Original productions! There's always something for everyone!!
Me:
I've recently been catching up on new seasons of shows I have previously watched. It's always nice to see when a new season is available!
Nashville: I LOVE the quality of the music on the show. The singers are so talented, and the harmonies are great! It also has good storylines. So excited that it has been picked up for another season!
Suits: Mike, Harvey, Louis and Donna are back for another season! The show is very well-written, and the actors are all perfect for their roles. I went through that new season pretty quickly!
Unbreakable Kimmy Schmidt: Such a wacky, zany show, with very colourful characters. Always amusing to watch.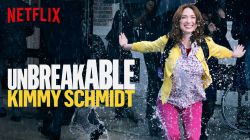 Downton Abbey: Even though Netflix is still a year behind the originally-aired episodes, it's great to have another season available. I'm looking forward to watching the final season (sad that it will be done, though!).
Scandal: It's fun that Netflix has had a new episode available every week. On one hand, it's nice to be caught up with the "rest of the world," but on the other hand, I do enjoy being able to watch a bunch of episodes in a row.
My husband & I
The Office: We loved the show when Michael Scott was on it, and hadn't watched the last few seasons without him, so that's what we've been doing these days. It's great to have some new, unwatched seasons, and the characters are all just as crazy as before!
Brooklyn 99: The second season is available, and it's just as fun as the first!
Our kids
Full House
The Good Dinosaur
Cool Runnings
Home
MVP – Most Valuable Primate
The following two tabs change content below.
Marya R
I live in Bowmanville, and am a mom to four young boys - it can get a little loud in my house. I am a Christian, a part-time French teacher, a piano teacher and former homeschooler. I love finding the best deals, which will come in handy when our boys become hungry teenagers! We just moved to a house with more outdoor space, and I'm still getting used to life in the country (a walk around the block is a lot longer here!).