Another MonsterJam adventure in Hamilton has come and gone and, from the reports by my son, a rip-roaring time was had by all.
In spite of a couple new trucks this year, Gravedigger remains at the top of Hendrik's list – he knows how to choose them – apparently Gravedigger won 3 of the competitions!
Hendrik's cousin Liam chose Zombie as his favourite – and even though Zombie won a grand total of ZERO competitions, you can see that Liam remained spell-bound by the truck.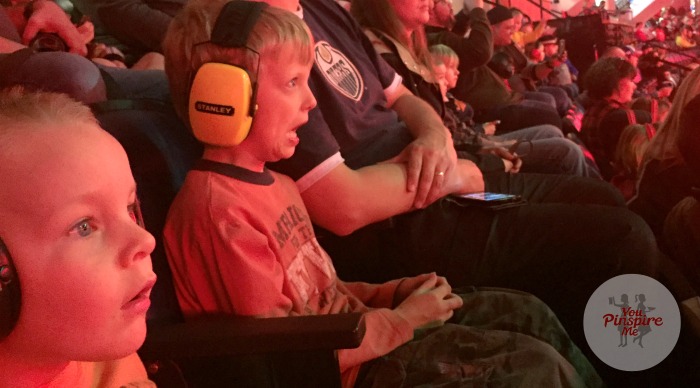 True to form, as soon as Hendrik walked in the door after this spellbinding show, he asked if he could please please pretty please go to MonsterJam again next year.
MonsterJam is on tour – click over here to see where they'll be next and buy your tickets!
Thanks so much to MonsterJam & Feld Entertainment for the tickets to this year's show!
The following two tabs change content below.
Jenn vanOosten
I live in Hamilton, Ontario, and love my city. I'm a Netflixer, choral music geek, bookworm, inventor of recipes (I take Artistic Licence on EVERYTHING that I make), wife of one, mother of two, and owner of a neurotic Schnauzer. I respect people who respect others. I love good food that's well done, but my favourite lunch is KD & hotdogs. With ketchup. I'm addicted to Clearance Shopping. I will ALWAYS get the product that I want at the price that I want, eventually.
Latest posts by Jenn vanOosten (see all)