After extensive research*, I'm confident that in saying that there is only one negative thing about Lego: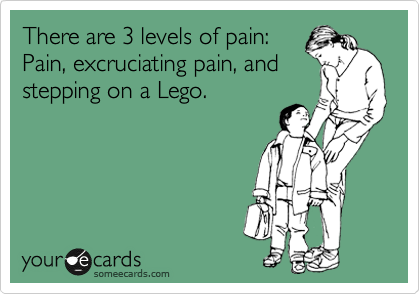 Is there any other toy (besides a smartphone or a tablet) that a 5 year old and 45 year old can equally appreciate and enjoy? Just little bricks of plastic with some bumps and holes. So simple, yet so brilliant. Our two kids have officially entered the Lego craze stage, though the 3.5 year old doesn't build much yet besides walls or "really BIG bricks!" The 5 year old loves to make houses and vehicles of any kind.
The instructions that come with Lego kits are designed with kids in mind – they're simple and straight forward, and without too much adult intervention kiddos can make some pretty cool structures. And yet.
One of the great things about Lego is that it isn't constricted to being one thing. Your imagination is the limit! But I don't have to sell you on how amazing Lego is… I'm pretty sure that it's in the Top Five Toys of North America.
Ever on the look out for great content for kids (like Turbo FAST, All Hail King Julien, DinoTrux, & Popples, Netflix has just introduced two new Netflix Original Lego shows for kids - LEGO Bionicle: The Journey to One and LEGO Friends: The Power of Friendship.
Our five year old guy loves this show. Superheros battling the forces of evil by harnessing the power of Fire, Ice, Stone, Water, Earth, & Jungle – what's not to love?! Well, I'll be honest. It's not really my kind of thing. But, as my son pointed out, I'm not a kid, and I'm not a boy, so it's ok if I don't like it so much.
I really kinda do like watching LEGO Friends with my daughter. It's fun and smart – I wish they had this show when I was growing up! These six friends go have adventures and discover life together – and find that there's really nothing more important than good friends. And to be quite honest, I think that all of our girls can use some extra lessons in friendship – those waters of elementary school sure can get muddy from time to time and it's not always easy to be a good friend. But, you know us. We don't spend all of our time watching TV.
Actually, tuning in to watch Netflix shows like LEGO Bionicle and LEGO Friends is a real treat for our kids – and that treat usually comes after some super good Team Work or a completed challenge. Following Lego instructions and being creative with Lego building are great ways to exercise the mind and hone those fine motor skills – but we use Legos in our house for all sorts of other sneaky educational activities – and because Legos are a super fun toy, AND they're awesome shows that we watch on Netflix – the kids don't even realize that doing learning exercises!
Here are some of our favourite educational Lego activities for Kindergarten Kids.
Spelling / Building Sight Words
Melissa over at The Printable Princess has a great sight word activity and printable sheet – our son has learned to recognize these words at school, but gets a little anxious when I ask him how to spell them. This activity has helped us quite a bit – and he finds it super fun. :)
DIY Lego Puzzle Book
I LOVE this idea from Kristina at Kids Activities Blog - the puzzles can be as simple or as challenging as you like, and it would also make a great travel activity if you had the right laptop activity desk!
Lego & Duplo Pattern Blocks
Katie at Plants and Pillars has created a pattern block template that you can print out and have your child colour in and then use Lego or Duplo to copy the patterns. There's really no end to the educational activities that you can do with Legos – but we're still in the preschool stage in our house. However, if you haven't done it before, do a Google or Pinterest search for 'Educational activities Lego' and you'll have enough to keep you and the kids busy for the next year. ;)
*Ok, after searching my memory for 30 seconds to see if I could remember ANYONE I know who has ever talked about not liking Lego. And I couldn't think of a single person.
Disclaimer: We're members of the Netflix #StreamTeam. We receive some super fun stuff in the mail, but we don't get paid to write posts and talk about them. We do that part because we looooove them. "Jenny & Netflix, sittin' in a tree…."
The following two tabs change content below.
Jenn vanOosten
I live in Hamilton, Ontario, and love my city. I'm a Netflixer, choral music geek, bookworm, inventor of recipes (I take Artistic Licence on EVERYTHING that I make), wife of one, mother of two, and owner of a neurotic Schnauzer. I respect people who respect others. I love good food that's well done, but my favourite lunch is KD & hotdogs. With ketchup. I'm addicted to Clearance Shopping. I will ALWAYS get the product that I want at the price that I want, eventually.
Latest posts by Jenn vanOosten (see all)