I realize that it's a little odd, giving a thorough review of a phone a couple years after its release, but this is a piece I've been meaning to write for a year and a half and gosh darn it, I'm just going to do an HTC One M8 review TODAY. The HTC One M8 is still for available at major retailers and carriers.
Once upon a time, I won an HTC One M8 on a random Mother's Day Giveaway from Rogers. I was, shall we say, disappointed that of ALL phones that I could win I had to win the HTC One M8. Let me be clear: I had no experience whatsoever with the either the brand or the One line of phones. My disappointment was based purely on the fact that my dearest darlingest IT / Tech husband had owned the One M7 and was entirely befuddled by it. He couldn't set the alarm, he had trouble with the apps, he found it entirely unintuitive.
Now, here was my thinking: If my husband, who deals with all things tech and figured out how to fix Apple computers by trial and error couldn't make the HTC serve his basic needs or see the basic good in the phone, it must be a terrible phone.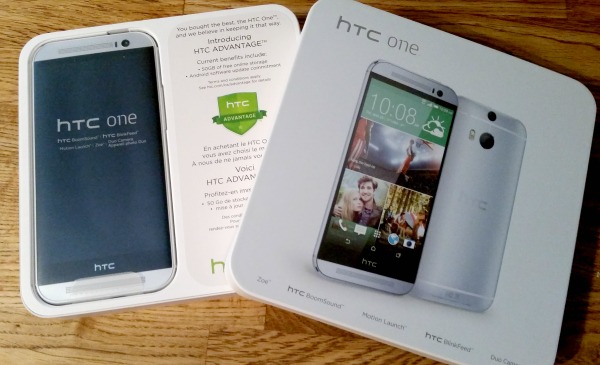 However. I was tired of my iPhone and wanted to try something new, so I took the (admittedly very pretty) phone out of its package and set went about setting it up. Switching from an iOS to an Android is not a particularly easy transition and it took me a few weeks to get comfortable with the phone, but I am SO glad that I did. The HTC One M8 is, thus far, my favourite phone by FAR.
I hadn't realized it at the time, but I was done with the need to have a Smart Phone on me all the time – of much bigger importance was having a Smart Camera on me. I use my phone to document my kiddos lives, to photograph blog projects, to watch TV, to do social media stuff, to email (ok, to CHECK emails, not write them), to text people. I get and make about 4 phone calls a week total. I don't need a phone that can do other stuff, I need something that can do everything and ocassionally be a phone.

The Camera
The HTC One M8 actually has 3 cameras on board – one front facing and two on on the back. The 5 megapixel front facing camera isn't anything special, and while it supposedly has a voice-activated shutter, I've found that it doesn't work more often than it does. However, the rear camera is fantastic. The aforementioned dual camera on the back allows for the same picture to be taken at different depths, if I'm understanding it properly, which means that you can choose different focal point depths after the picture has been taken (U-Focus). It doesn't always work flawlessly, but it's often a fast and easy way to get a DLSR-like quality photo from a cell phone camera (which, incidentally, is fantastic for hiding messy backgrounds, as seen below).
The main rear camera is 4 Ultrapixels ("Ultrapixels" apparently being a made-up word strictly for marketing purposes) – or, rather 4 REALLY BIG megapixels which has something to do with a greater ability to filter light and make images brighter with stronger colours. Or something. Anyhow, it's good. The pictures that I get are crisp and clear, the camera is very responsive and captures those split-second moments perfectly. (Which is important to me. My daughter NEVER stops moving.)
Of Note: Due to poor planning in the final stage of factory building & packaging, there's a film on the main rear facing camera lenses that isn't immediately apparent but starts to show itself within a month of purchase. Pictures start going blurry and it looks as though the phone has retained moisture. But! DON'T PANIC! (I did.) It's a well documented problem with the M8 and can be easily remedied with a little toothpaste, a Q-Tip, and a microfiber cloth. Using a Q-Tip, gently dab a touch of regular toothpaste onto the lens and gently-but-firmly rub the toothpaste into the lens. Gently wipe the toothpaste off with a damp microfiber cloth and repeat with the toothpaste. Your camera should be as good as new. <phew>
The Speakers
Does anyone else use their phone from morning to night as a media centre? I listen to the radio (I'm a CBC Radio 1 junkie), I watch Netflix, I Spotify, I stream podcasts – I think the only time I'm not using my phone for content is when I'm sleeping. If you've spent any time with an iPhone, you know that it's simply not possible to listen to any audio on the phone in a vehicle – and even when streaming content in your kitchen, you need to throw it in an empty bowl to hear anything over the noise of the kids in distant corners of the house. Not so with the M8, which has dual front-facing speakers with something called "BoomSound" technology. I'll be honest – I'm not sure what it means, but I do know that it WORKS. Not only does it project incredibly, but it amplifies the bass for a rich, balanced sound.
I can keep the phone in my back pocket and listen to the radio as I walk around the house putting laundry away; I can leave the phone on the counter in the kitchen and still hear the audio of my Netflix show as I set the table in the dining room; I can set the phone in the console of the van and actually hear the turn by turn directions from Google Maps.
The Display
Alright, so the screen isn't so big in 2016 terms, but in 2014 terms it was really huge – especially when compared to the iPhone! I find that the phone/screen is the perfect size. It still fits nicely in my small hand but the onscreen keyboard is big, making it easy to type accurately. There's a light sensor in the phone which will dim or brighten your screen based on the conditions around you – very helpful in a pitch-black room – you don't want to have a bright white light blinding you suddenly!
It's a good size to watch Netflix on while making supper (or, listen to Netflix and check in every once in a while) and the screen is big enough for grandma to watch cute video clips of the kids without squinting too much. The colours are rich and bright and the blacks are very black.
The touch screen is sensitive enough that you don't have to tap an app more than once, but not too sensitive that you open apps as you're swiping past them. You may not notice how perfectly calibrated the touch screen is until you go back to an iPhone and can't get the screen to register any of your touch commands.
Voice-to-Text Accuracy
I never actually type any of my text messages anymore (which is why, if you get a text from me, you'll notice that I never seem to spell my children's names correctly – Hendrix is way cooler than Hendrik, anyways….) – I use voice-to-text. I do end up with errors from time to time, but my husband and I have had voice-to-text accuracy competitions between the iPhone 6 and the HTC One M8, and the M8 wins hands down every single time. It responds faster and gets closer word matches. Lest you think that it might be the fault of my inarticulate husband, you've never actually met my husband. He's one of the most articulate, well-spoken, thoroughly-enunciated folks I have ever spoken with to date. I don't know if this credit goes to the M8′s microphone or to the Android OS, but kudos.
Build Quality
Have you ever picked up an M8 and held it in your hands? If you have, I bet you couldn't resist petting it. Seriously. I don't see the exterior of my phone much because I am a terrible klutz and thus keep it protected in an Otterbox, but whenever I take it out of the case I develop a crush all over again. The body of the phone is made from brushed aluminum, which gives the M8 the appearance of a premium phone. It's gorgeous. It comes in Gunmetal Grey, Amber Gold, and Glacial Silver. My favourite was the Amber Gold, but I sort of traded that one in for the Glacial Silver when I thought that the camera lens was scratched beyond repair. Still, the Silver is also sexy.
It's my opinion that the back of the Apple 6 was modeled on the beauty of the M8. Seriously. Don't they look a little similar?
My biggest conclusion from getting to know and love the HTC One M8 was this:
NEVER LET YOUR HUSBAND TELL YOU WHICH SMARTPHONE IS BEST FOR YOUR NEEDS.
For Reals. You and him are looking for COMPLETELY different things in a phone – do your own research and ask people who do the same sorts of things as you which phone they like the best and why.

So, I love my M8, but it is showing its age a little now after 2 years. I can't blame it, either – I make it work 14 hours a day, which is a lot to ask of ANYTHING. There is no appliance or tool or piece of technology that I ask to work for 14 hours straight – not even my shoes. It's getting a little tired.
So, after 2 years of overtime work, the battery life is noticeably shorter, but I invested in a decent external battery pack that I keep in my purse for emergencies. The processor is starting to slow down, and apps are slower to respond when asked to open. I'm on the hunt for a new phone – whether that's another HTC or a different animal altogether. I have a hard time believing that I'll find anything that I like better than the M8, so am seriously considering re-upping with another, but there is yet a whole world of phones that I have to explore. Like that new Asus Zenfone Zoom with an optical zoom (be still, my heart!), maybe…
I've been borrowing an HTC One M9 (for waaaay too long) from Rogers to play with, and I'll let you know what my experience was with that in an upcoming post.
Disclaimer: I won an HTC One M8 from Rogers Canada in a Mother's Day contest on Twitter. There was absolutely no expectation of reviews, mentions, or link backs, so this is a completely unsolicited review for which I have received no compensation.
The following two tabs change content below.
Jenn vanOosten
I live in Hamilton, Ontario, and love my city. I'm a Netflixer, choral music geek, bookworm, inventor of recipes (I take Artistic Licence on EVERYTHING that I make), wife of one, mother of two, and owner of a neurotic Schnauzer. I respect people who respect others. I love good food that's well done, but my favourite lunch is KD & hotdogs. With ketchup. I'm addicted to Clearance Shopping. I will ALWAYS get the product that I want at the price that I want, eventually.
Latest posts by Jenn vanOosten (see all)