Some people feel that themed birthday parties are just asking for extra work, but for me it's the opposite. It gives me a direction to go in with the cake, decorations, and goody bags. When I've got a clear direction to steer the party in, everything is just less stressful. Now, mind you, I don't do "Pinterest Perfect" parties – I don't make everything themed. Guys, I didn't even finish cleaning my house before the guests arrived. The basement / toy room was a mess and I barely finished making the cake (ok, I was still icing it when the guests arrived).
ANYWHO. Back to the Pirate Party. Back when Target was still, you know, NOT LIQUIDATING, I made a practice of checking out the clearance section of the party aisle. Now, I have a whole bin of birthday party stuff that I bought for about 75% off (or more!). I went through my box and found that I had a bunch of dinosaur party stuff and pirate stuff. I gave the Little Man the option and he chose Pirates. Hence, the Pirate Party. :) The whole thing was really simple.
Decorations
I bought green, black and red streamers, and black, red, and white balloons, and I had a chalk board banner in the birthday supply box. I pinned a string up across the wall behind the table, cut the red & black streamers floor length and taped them to the string.
I tied up the balloons in strategic places in the livingroom, and didn't worry about the rest of the house. I used the green streamers to make 'seaweed' on the walls. I cut short lengths of streamers, taped the bottom to the bottom of the wall near the floor, then twisted the streamers & taped them at the top as well.
Party Costumes
I picked up a couple packages of stick-on mustaches at Dollarama and let each child pick out their own style of mustache. During the Halloween clear-out in November at Target, I picked up several bags of 20 pirate eye patches for $0.75 each. WIN! I also made pirate hooks for everyone. Red plastic beer cups + rolled aluminum foil = pirate hook! (Head over here for more specific instructions.)
Games
I went to Party Packagers and bought a baggie of chocolate coins and a baggie of plastic gold coins – I used these for prizes for the games. I picked up a "pin the crossbones on the map" game at Target for $0.80, and the kids loved that. Every child who took a turn got a chocolate coin, but those who got the sticker in the target got 2.
I also found a length of 2×4 and set it up with a low chair on either end so that the kids could "walk the plank". Everyone who was brave enough to walk the plank from one side to the other was rewarded with a plastic gold coin from the treasure chest!
Cake
The cake was really quite easy – but I left it to the last minute, so I may have been icing it when the guests all arrived. Whoops. I mean to take pictures of how it all went together, but since I started icing it 25 minutes before the party was scheduled to start, the pictures just didn't happen. It was easy, though, take my word for it. Even if I didn't really have time to finish decorating it. (Go over here for assembly instructions.)
Party Food
I served a big bowl of cheezies, because kids. I used sliced oranges and blue jello to make pirate ships – the kids loved these. I had found a box of pirate cupcake accessories at Dollarama, and used the toothpick flags as the sails. For the 'substantial' food, I put hotdogs and sausages into some slow cookers in the morning so that they'd be ready to serve at party time with no extra effort.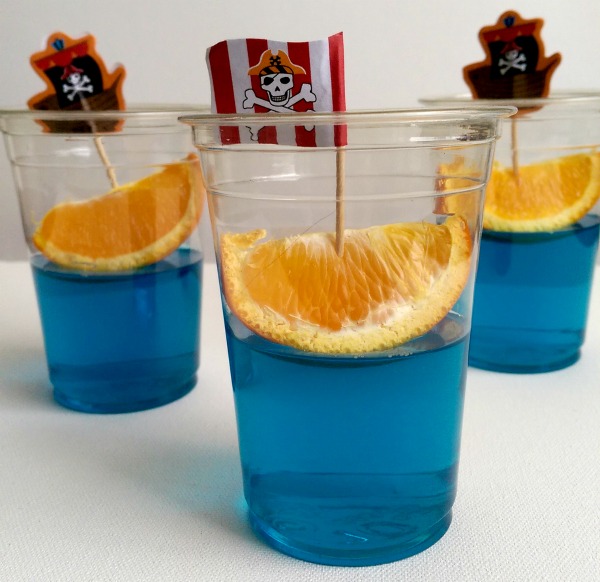 Goodie Bags
I started off with red & brown paper bags, and added just a few small 'Pirate Treasure' things to each bag. Mardigras beads, plastic gold coins, chocolate coins, a few pieces of candy, and an eye patch.
The following two tabs change content below.
Jenn vanOosten
I live in Hamilton, Ontario, and love my city. I'm a Netflixer, choral music geek, bookworm, inventor of recipes (I take Artistic Licence on EVERYTHING that I make), wife of one, mother of two, and owner of a neurotic Schnauzer. I respect people who respect others. I love good food that's well done, but my favourite lunch is KD & hotdogs. With ketchup. I'm addicted to Clearance Shopping. I will ALWAYS get the product that I want at the price that I want, eventually.
Latest posts by Jenn vanOosten (see all)