This Ham & Spinach Quiche has been one of my favourite meals since my mom discovered it in a Robin Hood Flour booklet years and years ago. Although we follow the same recipe, my mom's 'Layered Mediterranean Pie,' as they called it in this booklet, is always better than mine. I don't know how she does it. Perhaps the ingredient that I'm missing is "have someone else make this for you."
I used to be able to make some decent pie crusts (using the recipe on the Tenderflake boxes), but I lost my touch and now I prefer just to used pre-made pie crusts. I like the frozen Tenderflake shells, but they take up too much if the little freezer space that I have, so I've switched to Pillsbury refrigerated pie crusts, and they work just as well, if not better!
My mom always decorated the tops of her Ham & Spinach Quiches, so I do, too. It looks too weird when I don't.
This pie is really easy to put together, and it's so tasty and flavourful, and while my layers never look as good as the layers in the recipe book, my mouth is still watering just looking at these pictures!!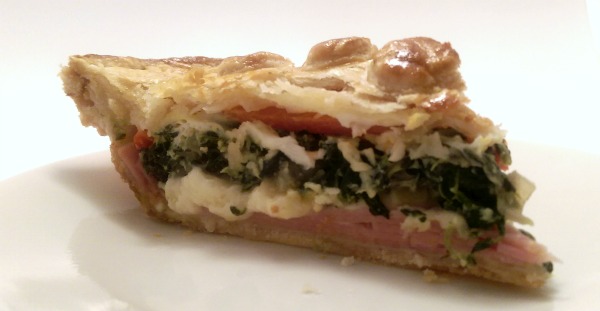 Spinach & Ham Quiche (Layered Mediterranean Pie)
2016-10-26 15:36:01
Serves 6
Ingredients
1 onion, chopped
1 clove garlic, minced
1 tbsp butter
1 package of frozen spinach, thawed & drained
Pastry for double crust pie (I use 1 box Pillsbury Refrigerated Pie Crust)
8 oz. sliced ham
8 oz. sliced mozzarella cheese
1 red pepper, cut into strips
4 eggs, beaten
Instructions
Preheat oven to 400 F.
Saute onion and garlic in butter until tender.
Add spinach to onions, cook on low until most of the moisture is gone.
Lay out the bottom pie crust in a 9" pie plate.
Layer ingredients on pie crust - ham, cheese, spinach and then red pepper.
Reserve a small amount (about 1 or 2 tbsp) egg to brush on top crust. Pour remaining egg in pie.
Cover with top crust, seal edges (decorate top, if desired!) and brush with egg. Make slits for steam to escape.
Bake at 400F for 35-40 minutes (or until golden)
Let sit for 10-20 minutes before serving.
You Pinspire Me http://youpinspireme.ca/
The following two tabs change content below.
Jenn vanOosten
I live in Hamilton, Ontario, and love my city. I'm a Netflixer, choral music geek, bookworm, inventor of recipes (I take Artistic Licence on EVERYTHING that I make), wife of one, mother of two, and owner of a neurotic Schnauzer. I respect people who respect others. I love good food that's well done, but my favourite lunch is KD & hotdogs. With ketchup. I'm addicted to Clearance Shopping. I will ALWAYS get the product that I want at the price that I want, eventually.
Latest posts by Jenn vanOosten (see all)