I know. Cashews in smoothies? WEIRD. Except, not weird! When you've got a power blender, the cashews get blended right in with everything and there's no grains left at ALL! Besides adding just a hint of a pleasant nuttiness, cashews are really good for you and make a healthy breakfast even better for your heart and bones!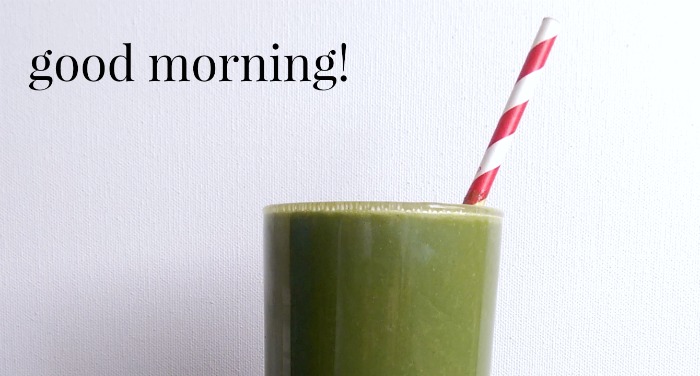 WHY are cashews good for you? By now, most people know that, by and large, nuts are a very healthy food in moderation. People who eat nuts at least twice a week are much less likely to gain weight than people who rarely eat nuts. Cashews in particular are an excellent source of copper, and a good source of phosphorus, magnesium, manganese, and zinc. Copper is great for helping your body make use of iron from your diet, and when it's missing in your diet you may be at increased risk for colon cancer. Magnesium is incredibly important for your bones – it balances calcium levels and regulates nerve and muscle tone. Magnesium helps reduce the frequency of migraines, lowers blood pressure, helps prevent heart attacks, and promotes normal sleep patterns.
And yes, cashews are fairly 'fatty', but they've got the GOOD FAT – monounsaturated fat. I witnessed the effects of the late 90′s campaigns waged against any and all fat content and food, and know that there are still a lot of people out there who do not believe that fat can EVER be a good thing. Here's the thing, though - monounsaturated fats help reduce triglyceride levels in the blood. High triglyceride levels are associated with increased risk for heart disease. Let's say this altogether, now: FAT DOES NOT CAUSE FAT. SUGAR CAUSES FAT!
So here's the deal, people: you should be eating a handful of nuts (cashews are one of the best nuts!) several times a week. This can take the form of nuts or nutbutter, but it really is best if the nuts aren't covered in chocolate or candied yogurt and if the nutbutter isn't loaded with sugar.
I started putting cashews in my smoothies last month and have been quite pleased with the taste. Add too many and the smoothie can become unpleasantly nutty, but just a small handful makes it taste more filling. And no, a green pineapple smoothie does not make use of green pineapples. ;)
Green Pineapple Smoothie with Cashews
2015-01-03 09:01:40
Serves 2
A healthy, filling, & energy-filled breakfast! When you add yogurt, hemp hearts, almond milk, and cashews, it's also a great source of protein!
Ingredients
1/2 - 3/4 cup plain yogurt
3/4 cup almond milk
1/2 cup pineapple juice (or 1/4 cup pineapple chunks)
1 Tbsp honey
½ tsp vanilla
1 banana
a small handful of cashews
1 tsp hemp hearts
150g frozen spinach (thawed slightly)
1 carrot, washed & cut into 2-3" chunks
6-8 ice cubes
Instructions
Add the ingredients to your power blender in the order listed.
With the lid on your blender, pulse 5-6 times, until it is clear that the carrot and spinach aren't intact anymore.
Turn on blender at the lowest speed and slowly increase to high speed. Let blend for about 4 minutes or until completely smooth. Enjoy!
Notes
Makes 2 LARGE servings.
You Pinspire Me http://youpinspireme.ca/
The following two tabs change content below.
Jenn vanOosten
I live in Hamilton, Ontario, and love my city. I'm a Netflixer, choral music geek, bookworm, inventor of recipes (I take Artistic Licence on EVERYTHING that I make), wife of one, mother of two, and owner of a neurotic Schnauzer. I respect people who respect others. I love good food that's well done, but my favourite lunch is KD & hotdogs. With ketchup. I'm addicted to Clearance Shopping. I will ALWAYS get the product that I want at the price that I want, eventually.
Latest posts by Jenn vanOosten (see all)