As much as we, as a family, LOVE summer vacation, we don't do an awful lot of trips or travelling. Money is tight, and we have to make our own fun. So we've become experts at finding extremely frugal (read: CHEAP) summer activities. One of our favorites is Cobourg beach. We can spend an entire day there, and not have spent a dime (except for gas).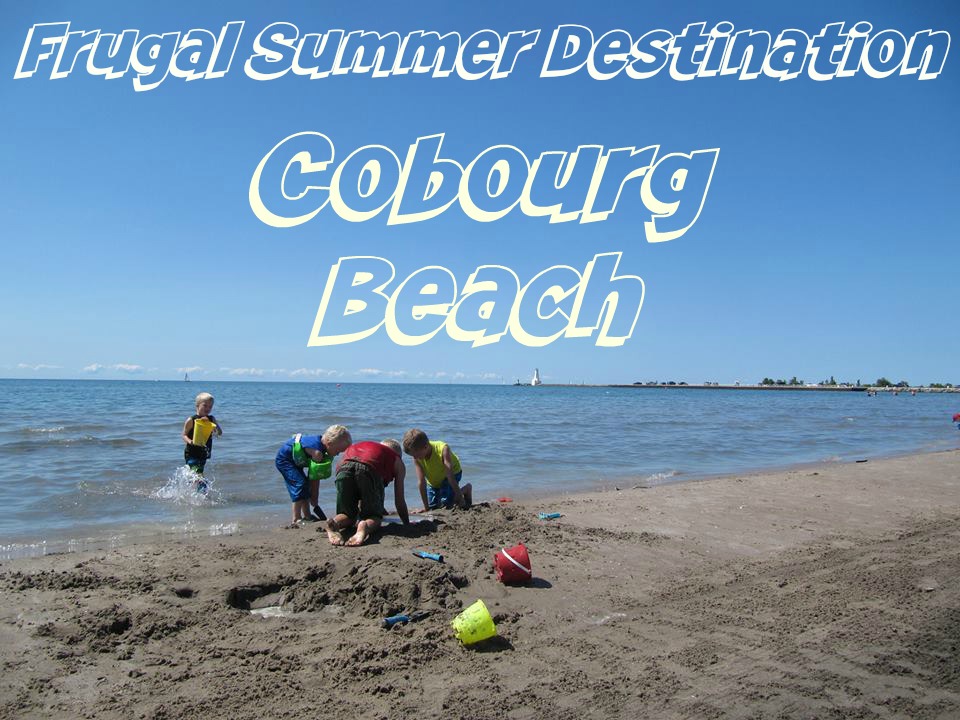 Here's why we love it!
It's a big, sandy, natural beach, right on Lake Ontario. They comb it every morning, so it is clean. The water is chilly, but wavy, so the kids like it. They have lifeguards patrolling during the day, which makes me feel a little safer. It has bathrooms very close to the beach (as well as concession, if you want to buy something). And it's FREE. No cost! You can pay to park fairly close, but we have found street parking that is just a block away. We always come first thing in the morning, so there's good parking, and the beach is quiet and empty. By the time the sun is too hot and bright, the crowds have come, and we are generally finished our day so it works out perfectly!
As we leave the beach, we walk right past a large splash pad, which is a GREAT place to rinse off all that sand before coming home! Hit the bathrooms again, and we're good to go!
And no trip to Cobourg beach is complete without a stop at Primitive Designs, just down the highway in Port Hope. It's an amazing store with home décor from around the world, but the real draw is the larger-than-life figurines made from old car parts!
There's Optimus Prime
And Bumblebee
And, the newest addition: a terrifying T-Rex, our favorite!
Who says that you have to spend money to have fun?! What are your favorite frugal summer destinations?
The following two tabs change content below.
Marya R
I live in Bowmanville, and am a mom to four young boys - it can get a little loud in my house. I am a Christian, a part-time French teacher, a piano teacher and former homeschooler. I love finding the best deals, which will come in handy when our boys become hungry teenagers! We just moved to a house with more outdoor space, and I'm still getting used to life in the country (a walk around the block is a lot longer here!).