When I opened a package from Renew Life last month in October, I didn't expect my husband to be so excited about the contents of the package – namely, a bottle of Renew Life Ultimate Flora Critical Care 50 billion probiotic pills. You see, at the end of the first week of school way back in September, our two darling children brought home the traditional back-to-school cold. Like any good and generous people, they decided, after a week of keeping it to themselves, that they would spread the love to Mom & Dad. It was a nasty one, and it took me three weeks to get over it. My husband, on the other hand, finally made an appointment with the doctor after more than FIVE WEEKS of window-rattling coughing. Turns out the Old Man's cold had developed into pneumonia, and he was sent home with a bottle of antibiotics. Now, we all know that this once-miracle medicine has been shown to pretty much destroy everything good about our digestive system, and if you don't take something to counter the antibiotics that you're pumping into the fragile eco-system that is your gut, you can end up with unwanted side-effects. All of this to say: when you take antibiotics, you really need to be taking probiotics! Anyhow. He snatched the bottle of probiotics out of the box before I could utter a word. So… that was that. But. I was challenged by Renew Life to do a 30-day challenge for my wellbeing – test out their probiotics while giving extra care to my fitness & healthy eating routine. This seemed like it'd be right up my alley, since my husband and I did another round of the Whole30 in October (well, *almost* another round… we did pretty well with it up until I went on a mini-vacation with my mom to visit my cousin in Calgary). I accepted the challenge and went out to buy a replacement bottle of the probiotics that Brian had so hastily stolen from me. And then…. I found that I couldn't complete the challenge. I struggle with anxiety from time to time, and things at my new job, which had been moving at a snail's pace for the first month of my employment because of the college strike, began moving at a high speed and I started fretting about getting everything done. I pulled off a few events really successfully, but the train was speeding straight towards my 6 event month in February and I had an incredibly hard time keeping my head in the game when I wasn't in the office. Case in point: I started writing this post in NOVEMBER. It's now the first week of January. This is a pretty epic fail on my part, and not a great move TERRIBLE move for a sponsored post. However, what I've learned over the past two years as I've come to terms with my occasional bouts of anxiety, is that the only way for me to move out of it is to move through it – mindfully. Ironically, it's the tools that Renew Life sent me that are helping me re-centre my head and my health again. Sometimes, you just have to put on your big-girl pants, take the probiotics, pick up the (amazing) cookbook, and recommit yourself to a health challenge. Because I know, deep down, that once my body is heading in the right direction, my head will follow. I know that when I eat more mindfully, I feel better about myself. I know that when I take a deep breath and face things head-on, I can deal with them, even if they're coming at me faster than I would like.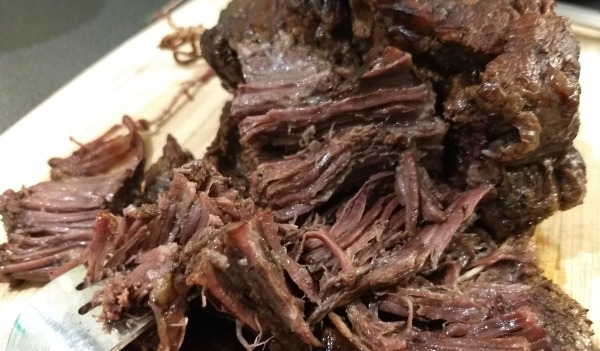 I made this amazing Keto roast beef in the InstantPot this week, after dedicating some time to finding super delicious-looking recipes that fit in with my nutritional goals.
So here I am. At the beginning of last week, I signed up for a DietBet and a StepBet to keep me accountable – because my willpower is lame, but I am so incredibly frugal that I would rather put down the glass of wine than lose $30. I haven't yet completed the 30 day challenge that I failed to do in the fall, but I'm getting started, and I have a plan. Here it is: My 30-Day Renew Life Challenge:
Meal Plan with mindfulness. When I don't take the time to look for delicious recipes that are also in line with how I want to be eating, I end up eating everything in the cupboard. (You'd think that, as a 35 year old, I would have outgrown my taste for sugar-filled novelty items that can only be found on trips to the states – like GIRL GUIDE CHOCOLATE MINT CEREAL! – not so.) I've been reading the Keto cookbook that I was sent in October and there are some AMAZING recipes in there that pair nicely with the InstantPot.
Taking a daily probiotic. When someone first suggested probiotics to me a decade ago, I thought it was hippy New Age nonsense, consumed only by those who kept healing crystals in their pockets. As it turns out, my gut would have been happier if I listened to my friend way back when. Probiotics support healthier digestion and can help boost energy levels – both issues that I've struggled with in the past.
GET MOVING! Holy Moses, did anyone else use these last few weeks of sub-arctic temperatures as an excuse to move from your bed to the couch to the dining table, lather, rinse, repeat? I DID NOT WANT TO GET UP. In the last week, I've been going outside to shovel even when the snow hasn't finished coming down. This has two benefits: 1) Shovel less snow at a time, allowing less chance to incur back injuries! 2) Get more steps and more fresh air.
Diffuse more oils at bedtime. There's a lot that's said about the 'healing powers' of essential oils, and quite frankly, I don't buy into it yet. (Check back with me in another decade, though, because I might just be printing up this blog post and eating my words.) However. I do buy a lot of essential oils because they make me happy. I love the smells, and I'm more relaxed and more likely to sleep better when I'm happy.
Sit on the floor and laugh and play games with my kids. Seriously, I don't know how you full-time working mamas do it – it's hard enough for me to find the time to play with the kids when I only work part time – but my husband has been taking on almost half of the suppers in our house lately, so I've found that I need to make the choice to sit on the floor and play a game with the kids. It makes me happy to not have to say, "Maybe in a few minutes, I need to finish XZY first."
Track my stress levels on the LEAF app. Renew Life gave me a Leaf in order to do this challenge, and one of the things that I've found interesting is that it uses my activity levels, period tracker, sleep tracker, and other analytics, to predict my levels of stress. When I know that the stress is starting to build, I can do more about it: take extra time in a quiet room with a cup of tea, go for a walk, or, at the very least, be armed with the information. When you know, you can adjust.
Use the meditation feature on the LEAF app. I've never been a "meditation" kind of person (see my comments above on New Age hippies and essential oils nonsense), but I have SO enjoyed the meditation feature on the LEAF! I can't do the guided meditations – I find them a little creepy – but the unnarrated meditations that are just filled with sounds – it's amazing what 10 minutes of lying in a beautiful English Countryside Meadow can do for a person! I have a hard time turning off my mind in the silence, but I am learning the art of unwinding while zoning in on the little sounds around me outside.
Making a choice to give my husband my undivided attention. Back in the day, before kids, when we were home, it was just us. My mind wasn't running in a million different directions, including contemplating the kids' lunches for tomorrow, thinking about piano lessons, homework, and who was most recently sick or how many times we can successfully evade that dreaded LICE letter from school before it enters our own home. There is ALWAYS something that I could be doing, so unless we actually head out of the house on a date, we've found that we don't connect as often as we should anymore. And so, we've started having "date nights" at home – where we close the door to our TV-less room, put down our phones, turn on music, and just hang out. Talk about what's going on at work, or what kind of plans we want to make for the summer. We've been making it a priority to focus our undivided attention on eachother – and I've been pleasantly surprised at the affect that this has had on ME, not to mention our relationship.
Deal with stress head-on before it turns into anxiety. Because I know that's what will happen. When I begin to think that I'm not enough to do the tasks facing me, I know that I can't ignore them, because they grow when you're not looking. Take a few deep breaths. Listen to a meditation. Pray about it. And then roll up my sleeves and get to work.
If I'm honest with myself, this isn't really my "30 Day Renew Life Challenge" – it's my goal for 2018. I'm not particularly proud of how I finished 2017, but, so far, I'm liking how 2018 is going. Disclaimer: This was a sponsored post that is woefully overdue. I was compensated to write about my experience with Renew Life probiotics and share about my personal journey. All opinions are my own, and my apologies to Renew Life for my tardiness, but I also want to thank you for helping me get off to a better start in 2018! Here's to kicking anxiety out the back door.
The following two tabs change content below.
Jenn vanOosten
I live in Hamilton, Ontario, and love my city. I'm a Netflixer, choral music geek, bookworm, inventor of recipes (I take Artistic Licence on EVERYTHING that I make), wife of one, mother of two, and owner of a neurotic Schnauzer. I respect people who respect others. I love good food that's well done, but my favourite lunch is KD & hotdogs. With ketchup. I'm addicted to Clearance Shopping. I will ALWAYS get the product that I want at the price that I want, eventually.
Latest posts by Jenn vanOosten (see all)