I saw the idea for these quick and easy Cinnamon & Sugar Donuts in a camp food roundup post last week, but the link in the article didn't go anywhere – so I decided to just wing it. It turned out pretty well, if I don't say so myself.

These easy donuts don't have to be reserved for camping trips, but we can all agree that eating deep fried foods is not an every day occurrence, right? They'd be super easy to make in your deep fryer, but they're also not challenging to make on the stove – just exercise extreme caution with hot oil, always. I don't even think about deep frying if my kids are around – they always want to have a hand in everything, and I just can't take that chance with oil.
All you need for this recipe is a can of refrigerated biscuit dough, cinnamon & sugar, a pot of hot oil, a very small circle cutter, a slotted spoon, and paper towel.

I picked up a packet of 6 nested circle cookie cutters at Dollarama a couple months ago, and the smallest size in there was the perfect size to use to make the donut holes. If you don't have one of those, a small shot glass would work nicely – but you might want to grease it first so that you can get the donut hole out of it.
10 Minute Cinnamon & Sugar Donuts
2014-09-06 22:52:27
A quick & tasty treat that melts in your mouth!
Ingredients
1 can of refrigerated biscuit dough (like Pillsbury)
About 1 litre of sunflower oil
2 Tbsp Cinnamon
1 cup white sugar
Instructions
Mix cinnamon & sugar together in a bowl (or Tupperware container, if bringing camping).
Heat oil in deep pot to 350/375 degrees.
Open the roll of biscuits. One by one, gently stretch out a bit, then lay on cutting board & punch the middle out with a small cookie cutter.
Once oil is hot enough, test with 1 donut hole - it should brown on one side in about 60 seconds, then flip it over. Remove with a slotted spoon and drain on paper towel.
Before it cools, toss it into the cinnamon & sugar bowl & coat thoroughly. Serve warm (but not hot!).
Repeat with remaining donuts & holes - cook about 3 donuts.
You Pinspire Me http://youpinspireme.ca/
These donuts are incredibly tasty the day that they're made, but the one downside of this recipe is that they go downhill dramatically the next day. If you have leftovers, take them off to the neighbours while they're still delicious!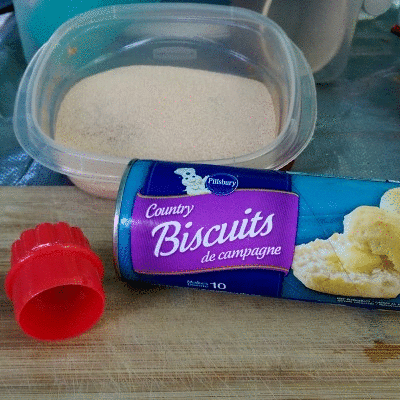 The following two tabs change content below.
Jenn vanOosten
I live in Hamilton, Ontario, and love my city. I'm a Netflixer, choral music geek, bookworm, inventor of recipes (I take Artistic Licence on EVERYTHING that I make), wife of one, mother of two, and owner of a neurotic Schnauzer. I respect people who respect others. I love good food that's well done, but my favourite lunch is KD & hotdogs. With ketchup. I'm addicted to Clearance Shopping. I will ALWAYS get the product that I want at the price that I want, eventually.
Latest posts by Jenn vanOosten (see all)