I love staying at home with my kids. I love going to the park, meeting friends for playdates, and doing things like apple picking on beautiful fall days. It beats the heck out of sitting in a windowless office pushing paper while knowing that the weather is just perfect for seizing the day outside. In order to make ends meet, I take in some extra kids for babysitting three days a week – and those are busy, busy days! On Mondays, I have FOUR TWO YEAR OLDS. FOUR. Most days, ONE is enough for me! Thankfully, however, 2 year olds tend to behave better for people who are NOT their parents. Phew.
This month, I've had the opportunity to try out an app called "HiMama". It's a really neat site for day care providers (both in-home and professional day cares) that helps track all daily events – from attendance & time of arrival to diapers changed & illness noticed to food consumed & naps taken – in a user-friendly format from multiple platforms. There's no maximum or minimum number of children that need to be registered in order to use the platform, so it works well for both large and homegrown operations.

I can use my computer, my iPad, or my Android phone (HTC One M8) to make updates – which means that, hypothetically, I can do it all real-time – whether we're at the park, at the lunch table, or in the back yard – I can upload pictures for parents to see, add what they ate for snack, & mark down what time they went down for a nap – without going out of my way. Now, real-life means that we can't always do those things right away – so I found it was pretty easy to go into the app the same day and upload any information that happened once we were well past that event.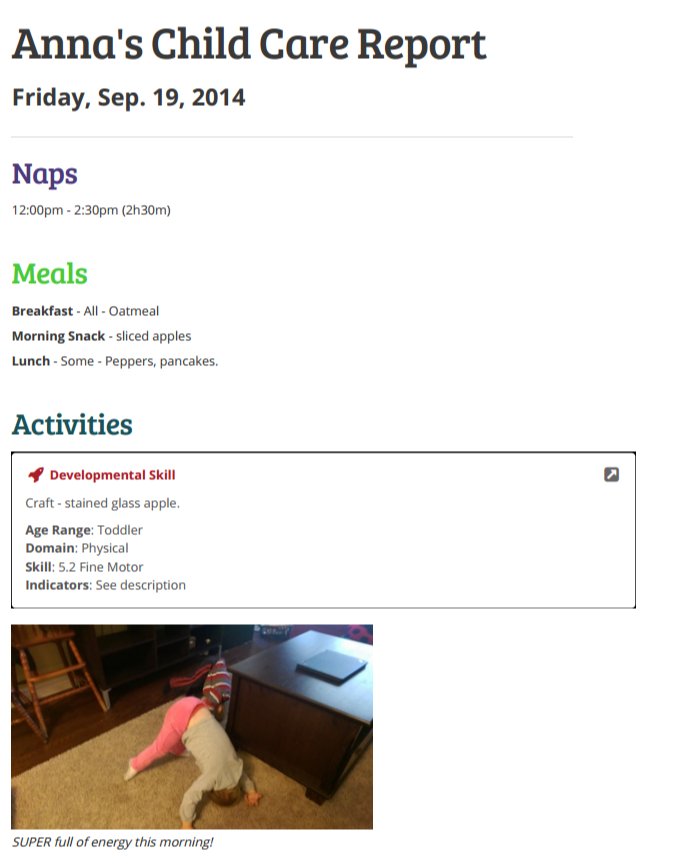 Each parent has access to their child's history in HiMama – as soon as I've sent the report for the day, the parents get to see any pictures that I've uploaded, all food consumed in the day, how long the naps were, what their disposition was during the day, etc. I love it because it lifts the burden from me of remembering to give all of the updates at pick-up time, and I can include pictures of the activities that we do throughout the day (not to mention the fact that they can actually see all of the many things that we get up to in one day!). The parents love it because they know what they should check back in with me about (Hmm, John has been refusing to eat bread all week,but will eat the rest of his lunch….), see the specifics of when Naomi has been going down for naps and how long she's been sleeping for (maybe that's why she's falling asleep so late this week!), and show off pictures of their little ones to the circle of friends and family that they choose.
In the past, I've either shared daily photo updates on facebook (with the parents' explicit permission) or not shared any photos at all if the parents weren't comfortable with it. With photo-sharing on HiMama, the parents can actually log into HiMama throughout the day and see pictures that I've uploaded of what we've been doing. The bonus? Parents can give other friends or family members the right to receive the end of day report, as well – so grandparents or divorced/co-parenting families can all receive the same updates and be on the same page about the child's daily behaviour, routine, and care.

I've only been using HiMama for less than a month, but already I can tell that it's going to make end-of-month invoicing easier – I'm not the most organized when it comes to tracking information, so I have to comb through calendars and facebook messages and texts to come up with an end of month invoice. HiMama automatically keeps track of attendance, making invoicing a snap.
HiMama has graciously given us a 3 month subscription to give away to another child care provider! You must be 18+ in order to enter. Contest closes Monday, October 20 at 11:59PM. Once contacted, winner will have 24 hours to respond with requested information or she will be passed over for the next name chosen.
a Rafflecopter giveaway

The following two tabs change content below.
Jenn vanOosten
I live in Hamilton, Ontario, and love my city. I'm a Netflixer, choral music geek, bookworm, inventor of recipes (I take Artistic Licence on EVERYTHING that I make), wife of one, mother of two, and owner of a neurotic Schnauzer. I respect people who respect others. I love good food that's well done, but my favourite lunch is KD & hotdogs. With ketchup. I'm addicted to Clearance Shopping. I will ALWAYS get the product that I want at the price that I want, eventually.
Latest posts by Jenn vanOosten (see all)