This month's Wine & Cheesy Book Club pick was Rilla of Ingleside by LM Montgomery. Now, as a self-proclaimed Canadian Lit & Historical Fiction enthusiast, it should follow logically that I have read all of Montgomery's books. Should.

In fact, I have only ever read Anne of Green Gables…and even that was probably two and a half decades ago. I love the story of Anne – I love the movies and the plays and it was SO FUN to visit Avonlea Village a few summers ago with my mom and sister, but for some reason I've always written off the books as…dull & boring. They're not! And I know that! But that's been my lame excuse for not reading them.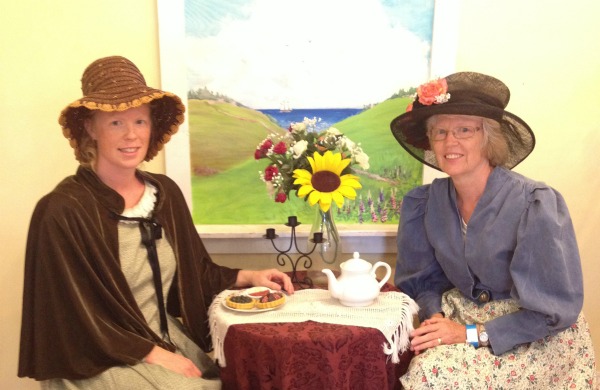 Anyhow. I do my best to read the books that are chosen for book club since they're really not a chore to read – but I sort of forgot to read this one until it was the week of our meeting, so I downloaded a free audio book of Rilla of Ingleside from LibriVox and listened as I cleaned the church (and took 11,000 steps!). LOVED THE BOOK. So good! I've always found historical fiction from the WWII era to be fascinating to read, but I haven't really read any historical fiction from the WWI era. Must seek out more.
As we chatted about our upcoming meeting, friend Liz stated that she hadn't the time to figure out how to make a cake with the war rations that the Blythes would have had on hand, and that got me thinking…. How did cakes in 1915 differ from cakes in 2016?
Folks across Canada were severely limited in their supply of flour, sugar, eggs, butter, pork, and beef because massive quantities of food were being shipped overseas to Europe to feed to "Boys in Khaki", along with the civilian population in Britain & France, for fear of these groups starving. As a result, recipes had to be created and adapted to use less sugar (and only brown or 'yellow' sugar, because it was cheaper and more common), few eggs, and less white flour.
After doing quite a bit of Googling and reading, I soon found the recipe for Canadian War Cake – AKA "Poor Man's Cake," "Trench Cake," or "Boiled Raisin Cake," to name a few of the incarnations, that became a house-hold staple across North America after it rose in popularity during the Great War. It varies a little from recipe to recipe – a 1/2 tsp more spice in this one, less sugar in that one, add the spices to the water in this one but add them to the flour in the other – but I would imagine that the end result is pretty similar from cake to cake.
It uses baking soda rather than eggs as the leavening ingredient, and substitutes water for milk. When butter rations were low, this maker of this recipe would have used lard in its place, and it's much more likely that, on the east coast of Canada, at least, currants would have been used in place of raisins.
Some of the recipes you find will ask you to ice the cake when it's finished, but, as the war grew in length, sugar was rationed even more tightly and it's unlikely that it would have been served with icing in World War I. Most recipes recommend that you wrap up the cake and leave it on the counter for a day before serving, but we found it quite delicious in the hours immediately following its removal from the oven.
I made the cake, from start to finish, in a little over 2 hours. Traditionally, one would have made up the liquid portion of the cake in the morning or even the night before and then assembled and baked the cake in the afternoon. This would give the currants or raisins a chance to plump up nicely and the liquid to cool to room temperature before adding it to the dry ingredients. I didn't have the time, so I stuck a lid on my pot and set it outside to cool in the snow, which worked quite nicely.
I didn't have a good pan to bake the whole bowl of batter in (it really does make a lot of cake!), so I made 2 8″ round cakes and 2 4″ round cakes.
Canadian War Cake
2016-04-07 19:39:22
A traditional eggless dairy free cake that finds its origins in the WWI Era, created out of necessity due to the rationing of eggs, milk, butter, sugar, and flour.
Ingredients
2 cups currants or raisins
3 cups water
1 1/2 cups brown sugar
1/2 cup butter or lard
3 cups sifted flour (or about 2 1/2 cups unsifted, whisked)
1 tsp baking powder
1 tsp baking soda
1/2 tsp ground ginger
1/2 tsp ground cloves
1/2 tsp nutmeg
1 tsp cinnamon
1/2 tsp salt
Instructions
In a small pot, bring the currants / raisins and water to a rolling boil. Continue to boil for 10 minutes.
Remove from heat and stir in the sugar and butter. Set aside and bring to room temperature (several hours or overnight).
Preheat the oven to 350, and grease and flour a bundt pan, 3 8" pans, or a tall square pan.
Sift together the remaining ingredients in a large bowl.
Create a well in the centre of the dry ingredients with a wooden spoon, then add the wet ingredients and mix until well combined, but be careful not to over mix.
Pour the batter into the prepared pan(s), and bake until centre is set and a toothpick will come out clean. (Bundt pan & square pan - about 1 hour. 3 8" pans - 35-45 minutes.)
Notes
Be careful not to overcook the cakes, as they lose their moisture rapidly towards the end.
Store in an airtight container on the counter for several days.
Traditionally, this recipe is made to sit out for a full day before being served.
Adapted from Rock Recipes
You Pinspire Me http://youpinspireme.ca/
The following two tabs change content below.
Jenn vanOosten
I live in Hamilton, Ontario, and love my city. I'm a Netflixer, choral music geek, bookworm, inventor of recipes (I take Artistic Licence on EVERYTHING that I make), wife of one, mother of two, and owner of a neurotic Schnauzer. I respect people who respect others. I love good food that's well done, but my favourite lunch is KD & hotdogs. With ketchup. I'm addicted to Clearance Shopping. I will ALWAYS get the product that I want at the price that I want, eventually.
Latest posts by Jenn vanOosten (see all)