Hi! My name is Jennifer, and I'm addicted to sugar.
I don't say this lightly. It's not in the fun facebook meme way that moms talk about hiding in the bathroom to eat a chocolate bar: I literally have a serious sugar addiction, and I knew that I needed to do something about it soon or I'd end up with diabetes.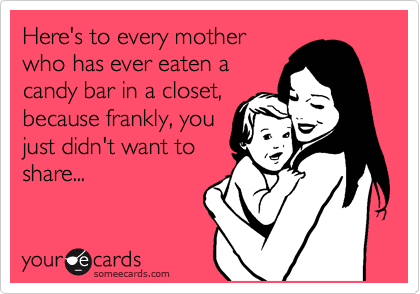 Back in the fall, I noticed that my eating habits had changed a bit. I had a pretty rough September and October mentally and emotionally, and I wasn't really hungry for the Healthy Stuff. I was snacking quite a bit during the day and, if I stopped off at Dollarama, I thought nothing of buying a chocolate bar or a can of candied peanuts to wolf down in the van during my errands. I knew it wasn't a good practice, but Christmas was coming up around the corner, so I'd make changes after the season of gluttony. Christmas came and went, and that sugary food was now my comfort on the chilly blah winter days while the kids were at school. As the winter turned to spring, I noticed that several times during the day (and right before bed), I'd rummage through the cupboards for sugar in any form to shove down my hatch. It didn't even have to taste good. I just needed sugar. Oh, and when I was coming down from that sugar, I was sooo grumpy. I pity my kids.

I knew it wasn't healthy, but I had no idea how to stop it. Simply deciding not to eat sugary foods anymore wasn't a problem when I woke up, but by the time I was downstairs making lunches for the kids, I'd eat two cookies before I'd had my breakfast. Not a great start.
Then, a month ago, we were having supper with some friends who told us that they had just recently finished the Whole30 program. Curious about this, we asked them to tell us more and they happily obliged.
The Whole30 is sort of a nutrition re-set for your body. You commit to 30 days of CLEAN eating, and restrict all foods on their "no" list, most of which are common allergens or are known to have unhealthy effects on our bodies.
No:
Dairy (including cheese and butter!! but you CAN use Ghee)
legumes
grains (including corn)
carbs (white, red, and sweet potatoes are OK in limited quantities)
alcohol
sugar in any form, including Maple Syrup or Honey or Xylitol (fruits are OK in limited quantities)
carrageenan, MSG, or sulfites
junk food (even if the ingredients are all "Whole30 Compliant")
That's a pretty big and intimidating list of NO foods, but our friends were really pleased with the results of their 30 days of clean eating. They both lost a fair amount of weight, slept better, and generally felt better across the board.
My husband thumbed through the official Whole30 cookbook and, by the end of the evening, we had decided that we should give this a go. He was interested in the weight loss, and I was interested in tackling on my sugar addiction.
There's never a good time to start the Whole30. There will always be a birthday, a fancy dinner event, a trip, or a "food holiday" coming up. In our case, there was Mother's Day, we were going to be spending the next two weeks moving out of our old house and into our new, and then, smack dab in the middle of the 30 days was my birthday. Buuut. If we didn't do it now, we had a trip to Scotland planned mid June. And a yet-to-be-determined trip in July. And then a week at a cottage in BC with my husband's sister and brother in law and a half week with university friends in August. And then the summer was over. So. If not now, when?
We set the start date for the next week (which would have us finishing up two days before our Scotland trip) and started making our meal plans. Eating REAL, WHOLE foods means a LOT of time in the kitchen, and this is coming from someone who already cooks almost everything from scratch. It means turning every food container around and looking carefully at the ingredients. It means taking trips to particular stores to buy particular foods that are 'compliant'. (Costco Kirkland bacon is one of the only compliant bacons around!)
Week ONE was challenging because we were trying to whip up 3 compliant meals a day in the midst of packing up a house. It meant no pizza for us on moving day. It meant having a functional kitchen up until the day that we moved out and setting up the kitchen in the new house as soon as we moved in.
I was SO GRUMPY and irritable with everyone that first week because I was going through MAJOR sugar withdrawals. I was crashing, and I would run into the kitchen and grab a prune and a handful of cashews to satiate myself and feed that sugar craving. Now – Snacking is not recommended on the Whole30, but it is acknowleged that for the first few days or week of the program, it might be needed from time to time. Eating prunes for sugar is not ideal, but if it'll keep you on track for a short period of time, it's allowed. I didn't even really notice when I stopped the snacking – it was just over a week in, I know that – but it just petered off and I was finished with it.
Week TWO was easier in the sense that we were settled a little more into our house and found several great recipes that were satisfying and delicious. My moods were more even, but I still wasn't sleeping any better than I had beforehand (and I'm a terrible sleeper).
I was starting to get tired of eggs all the time. I'm a cereal for breakfast girl – not only because I really do love cereal, but also because it's quick and easy. Prepping a plate of eggs and vegetables takes quite a bit more time than pouring a bowl of cereal and milk. I was getting tired of eating all of my food with a fork and a knife. I made very tasty "waffles" from eggs, sweet potatoes, carrots, and spices, and then made BELT sandwhiches with them. Oh-so-satisfying and tasty, but I think "technically" against the rules because the waffles imitate bread. I'm ok with it, though, but if you attempt the Whole30, that choice will be up to you.
On the last day of the second week, we attended a birthday gathering of one of our friends who had convinced us to do the Whole30. They (very thoughtfully) provided us with compliant Kombucha to drink in place of wine or beer, and had a table of compliant snacks for us to eat (in addition to all of the very tempting non-compliant treats like jubejubes, chocolate cake, and chips). We successfully navigated the evening without even snacking on the compliant stuff – and felt pretty good about our successful night out in the real world.
Week THREE was harder. We didn't plan our meals out in advance, which is a terrible idea. It meant that we ate supper after 7pm several times, and breakfast took much longer to prepare when we had to decide first what to make and then make it.
I went to two Blue Jays games - one with my husband and son, and one with my brother and sister. I prepared well for both games – packed a backpack full of compliant foods along with lots of water. The first game was easy, since my husband was in the same boat that I was, but the second game was so very tempting. It was a Thursday night game so the WestJet Flight Deck was in full party mode – free food of any kind you can think of: gourmet popcorn, fried chicken, peameal sausages, sliders, spring rolls, and on and on – free samples of Barefoot Wine & cocktails, and a fantastic live band. My brother also brought along a large bag of caramel corn and a tub of candied peanuts, and my sister brought a large package of Reese's Peanut Butter cups.
Not only did I have the smell and sight of all of the food that I desperately wanted to eat, I had quite a bit of "good natured" teasing from the sibling department on all of the food that they were eating that I couldn't eat – it was a pretty tough evening for my resolve – probably the hardest several hours of the Whole30 to-date. Cutting out all of the foods that you desperately want to eat is not fun, I'll tell you that, and is incredibly difficult to turn down these foods that you love so much. Fortunately, most of our company this month has been incredibly supportive and encouraging of our journey.
I was very sad not to have a birthday cake or even cupcakes on my birthday, but we did have an impromptu birthday party with my book club ladies – I had a bunless homemade hamburger and tasty superfood salad, and then finished it off with a not-recommended-but-compliant small bowl of fruit salad and banana almond "ice cream". Very tasty. (Technically, there is no such thing as a Whole30 Birthday Dessert. The idea is that you learn to reward yourself with something other than food for special occasions…. hence the baseball outing with my siblings.
)
Week FOUR is underway and I am COUNTING DOWN THE DAYS! You're not supposed to weigh yourself while doing this, but Brian and I have each joined a DietBet or two (because the Whole30 is EXPENSIVE to do, what with all of the meats!) to try and make back some of the money that we're spending. I've already lost my required 4% for the DietBet, so I'm pretty happy about that. However. I. Hate. Every. Single. Day. of this thing. It hasn't really gotten easier. Every day when I make lunch for my kids, I want to eat the bit of the croissant that fell off, or nibble on a piece of cheese. I'm tired of having hamburgers without buns, and I would loooove to have a glass of wine once in a blue moon when I read my book. 7 days left to go. I'm proud of myself for doing this, and while I HATE it, I know that it's a worthwhile undertaking.
Thoughts
I am so pleased that I no longer need to eat sugar, and I look forward to consuming some of my favourites again, but I recognize that it will be difficult not to go back to over-indulging. We have already talked about doing this again in the fall, so I'm hoping that if we do this now and again, I can have a healthier relationship with my food.
Over the next few weeks, I'll be posting some of my favourite Whole30 recipes that have kept us going this month. I would have liked to do them earlier, but now that we've moved, I still have house organizing to do and the kids need to be driven back down to our old neighbourhood for school and picked up, and all of these things eat into a day much more than I would like!!
In the meantime. I'd love to hear from you!
A) Have you tried the Whole30? What did you think about it? Would you do it again?
B) Have you thought about doing the Whole30? What's holding you back?
C) Do you have a troubled relationship with food? How have you dealt with that?
The following two tabs change content below.
Jenn vanOosten
I live in Hamilton, Ontario, and love my city. I'm a Netflixer, choral music geek, bookworm, inventor of recipes (I take Artistic Licence on EVERYTHING that I make), wife of one, mother of two, and owner of a neurotic Schnauzer. I respect people who respect others. I love good food that's well done, but my favourite lunch is KD & hotdogs. With ketchup. I'm addicted to Clearance Shopping. I will ALWAYS get the product that I want at the price that I want, eventually.
Latest posts by Jenn vanOosten (see all)