If you are like me, you don't always get around to baking or cooking from scratch. There is always something going on, and getting out all the ingredients and dishes takes so much time. Then there's the clean-up afterwards – nobody likes that part. So instead of cooking or baking, we buy pre-packaged, processed foods that are more expensive and less healthy. That's why batch baking makes so much sense! All you need is one morning or afternoon, a good recipe, and some good music!
When you are making one batch of cookies, muffins, or loaves, it doesn't take a lot of extra effort to double the recipe! You will get twice the amount of baked goods in about the same about of preparation time. You will heat up the oven just once to bake twice as much. And the cleanup is about the same if you are doing one batch, as opposed to two. You may need to experiment with your recipes to see which ones work well doubled, and which don't.
When you get really good at batch baking, do more that 2 batches! Most recipes don't work well tripled (and don't fit in any bowls) but if you make 3 double batches of muffins, one after another, you will have a full freezer with enough school lunch snacks to last a long time! See our post about Back to School Baking.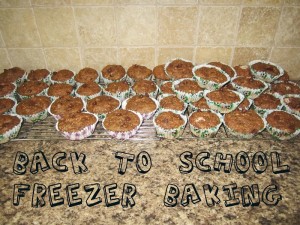 Here's a my step-by-step process for making lots of muffins for school with little effort. You will need a good recipe, several very large bowls, large zipper freezer bags, and lots of muffin trays & liners. This is an apple cinnamon muffin recipe that I've used with great success in batch baking.
1. Make sure you have all the ingredients. This is very important. Take them all out and arrange them on the counter in order. Put them away as you use them, so you make sure you use them all (when batch baking, it's very easy to leave out something as small as salt, which really affects the flavour).
2. Combine a double batch of the dry ingredients in your stand mixer (or by hand). If using a stand mixer, this goes really easily. When combined, dump into an empty bowl. Repeat this for your second double batch, and your third double batch.
3. Combine the wet ingredients in the stand mixer, according to instructions. Start with one double batch, then pour it into one bowl of dry ingredients. Do the second and third double batches the same way.
4. Mix by hand, according to directions. At this point, you should have three large bowls of muffin batter, ready to be baked. If you are wanting some variation, this is the point to add the apples, chocolate chips, cranberries, or whatever you like to each batch.
5. Bake your muffins! The last step is a little time-consuming, but so very energy efficient! You will be baking 6 batches of muffins one after another. Since the oven is already heated for each one, it requires very little extra energy. While the muffins are baking, this is the time to do the mass cleanup. Remember, it's just ONE cleanup, rather than six separate days' worth of cleanups.
6. When muffins are done, allow them to cool completely.
Put them in freezer bags, label, and store in the freezer for up to 6 months. These are perfect to add to a school lunch – they will thaw by lunch time and will keep the lunch cool. They're also great to grab for a long drive, a day at the zoo, or a quick snack for unexpected visitors!
The following two tabs change content below.
Marya R
I live in Bowmanville, and am a mom to four young boys - it can get a little loud in my house. I am a Christian, a part-time French teacher, a piano teacher and former homeschooler. I love finding the best deals, which will come in handy when our boys become hungry teenagers! We just moved to a house with more outdoor space, and I'm still getting used to life in the country (a walk around the block is a lot longer here!).