My children love playing with bubbles, and I can get behind that. Bubbles are a summer activity in its purest form. They don't require fancy equipment or batteries, they can involve gaggles of children, and they spread happiness like pixie dust.
But man, am I ever over the kids spilling the entire contents of their bubble bottles in less than 3 minutes!
Thankfully, last summer I saw an absolutely brilliant solution in someone's facebook photo to the Bubble Spilling Problem, and it took me less than five minutes to implement it.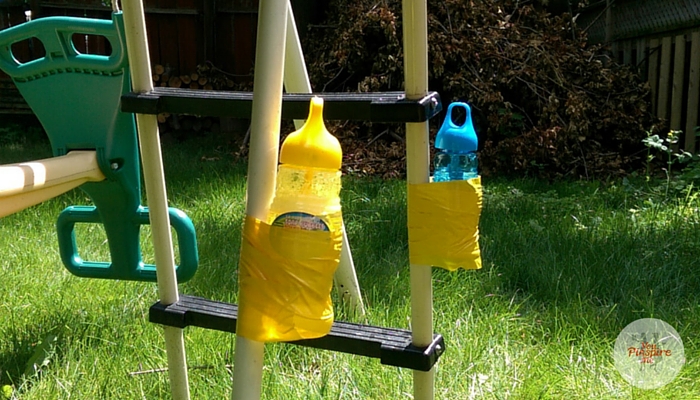 Yup. Grab some tape – masking tape or scotch tape will work in a pinch, but duct tape is more effective – and tape the bubble bottles to an upright pole. Here, we have them taped to the slide ladder on our swing set, but we've also taped them to the picnic table.
Could it get any more simple? We buy (or make) giant bubble refill bottles, so we just leave the taped bottles up all summer and refill them as needed. The kids love it because they don't have to constantly ask me if they can do bubbles, and I love it because it eliminates the mess and the waste!
The following two tabs change content below.
Jenn vanOosten
I live in Hamilton, Ontario, and love my city. I'm a Netflixer, choral music geek, bookworm, inventor of recipes (I take Artistic Licence on EVERYTHING that I make), wife of one, mother of two, and owner of a neurotic Schnauzer. I respect people who respect others. I love good food that's well done, but my favourite lunch is KD & hotdogs. With ketchup. I'm addicted to Clearance Shopping. I will ALWAYS get the product that I want at the price that I want, eventually.
Latest posts by Jenn vanOosten (see all)