One of the many benefits to our family membership at the Royal Botanical Gardens in Hamilton/Burlington is the crafts table. Every week, the team at the RBG puts out a new craft for visitors to do – they make a few examples, post the instructions, pre-cut the pieces, and leave all the supplies nicely organized for little hands.
The current exhibit is Reptile Rendezvous, and it's a very impressive showcase of all things reptilian. Lizards, turtles, snakes, geckos, and alligators are among the guests temporarily taking up residence just around the corner from us (it only takes us 4 minutes to drive to the RBG from our new place!).
The craft this past week was a cute and easy alligator popsicle stick puppet. You don't need a lot of supplies for this one, but it is helpful to glue the popsicle sticks together (as in the photo below) with a hot glue gun before handing the project over to the little ones to complete.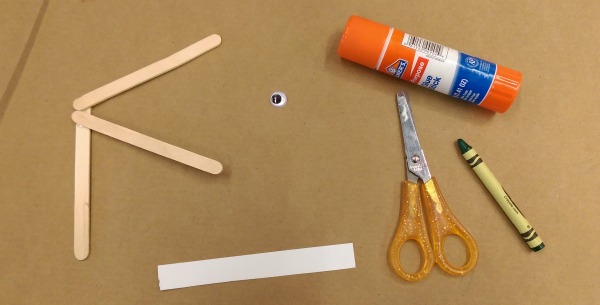 Supplies Needed:
3 popsicle sticks per puppet
1 googly eye per puppet
1 1/2″ strip of white cardstock per puppet
crayons (green for the realists!)
safety scissors
glue stick
Directions:
Colour the popsicle sticks the desired colour. My son went for the less-traditional orange and red pattern with a green top jaw.
Cut the white strip into triangles.
Put the coloured side of the popsicle sticks facing down on the table and glue the triangles onto the jaws to form teeth pointing into the mouth.
Turn the gator back over and glue the eye on where the sticks meet.
chomp chomp chomp
Other than being a member of the RBG, I have no official association with the Royal Botanical Gardens. I do, however, wish to thank them for the fun craft.
The following two tabs change content below.
Jenn vanOosten
I live in Hamilton, Ontario, and love my city. I'm a Netflixer, choral music geek, bookworm, inventor of recipes (I take Artistic Licence on EVERYTHING that I make), wife of one, mother of two, and owner of a neurotic Schnauzer. I respect people who respect others. I love good food that's well done, but my favourite lunch is KD & hotdogs. With ketchup. I'm addicted to Clearance Shopping. I will ALWAYS get the product that I want at the price that I want, eventually.
Latest posts by Jenn vanOosten (see all)